Camden, Company news

How we built Purezza Camden
Camden –
Purezza Camden opened in 2018, but in January 2020, we closed our doors and moved to a larger spot. We tripled in size, but also completed a 100% sustainable fitout. Purezza Camden is now the largest vegan restaurant in the UK, and we've meticulously built every inch of it with sustainability in mind.
Take a seat
When you grab a seat in Camden, you'll sit yourself down at one of our tables, which will be made with wood, stone, or terrazzo – all of which are fashioned from recycled and reclaimed materials. But don't forget the seat itself! These are made with innovative plant-based leather, crafted using recycled plastic bottles.
Now take a look around
There's a lot to take in. The walls are plastered using a pioneering hemp plaster. Yep, the very same stuff that goes into our hemp dough can also be used to make plaster. They've been painted with highly eco-friendly water-based paints.
The floor, meanwhile, was our own little reclamation – we recrafted this from the site of the previous Purezza Camden to make it suitable for our new restaurant, whilst adding some tiles with GREENGUARD certification too. Every step counts, literally.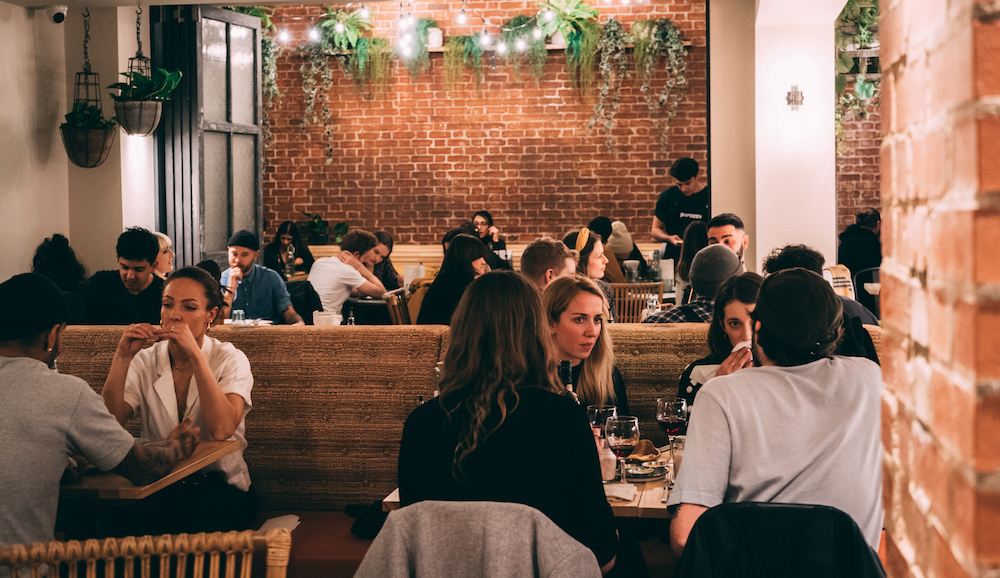 Some of the easiest sustainability wins came from refurbishing what was already found on the site. From floors that we dyed using water-based dyes to give them that distinctive Purezza sheen, to wooden boards adorning some of the walls, which we sanded down and varnished.
But our favourite pieces were some old chapel doors, kept in their current state and fitted into the restaurant. They lend a slightly rustic look, and give Camden its own idiosyncratic sense of identity.
Fancy a drink?
Our brand-new bar area has also been crafted using similarly sustainable methods. We used artisanally crafted terracotta tiles which were, again, made with recycled terracotta. We also completed the rest of the bar fitout with tiling that carries GREENGUARD certification.
The bar, much like the rest of the restaurant, is illuminated by gorgeous ambient lighting, which was the most energy efficient available. Using strategically placed mirrors, we were able to increase the lighting across the restaurant with minimal environmental impact. Oh, and the frames for those mirrors were made with reclaimed iron.
How did you get here?
We can tell you it's really easy to get here by public transport including bus and Tube travel… we know, because our building team were so committed to keeping this project sustainable that they only travelled via public transport to minimise environmental impact.
For now, we hope you enjoy the visit to Purezza Camden, and we haven't touched on the ethos behind our menu. Find out more, or book in today.